Meet Our Fruit Snacks with Real Fruit Innovation!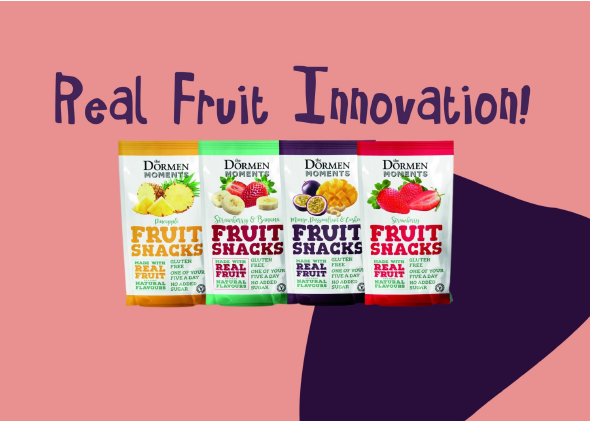 We take 100% fruit, add crisped rice. The result - healthy snack heaven.
Here at The Dormen Food Company, we have developed a range of delicious healthy snacks. These are 100% fruit. And, above all, high on flavour.
The perfect snack for kids and adults alike.
A great healthy snack for lunch boxes, or at your desk. No added sugar, no sulphites, no shortcuts!
Currently available in four fantastic flavours! We have Strawberry, Strawberry & Banana, Pineapple and Mango, Passionfruit & Cashew.
You will also find that we have a bundle of all four flavours available, so you can find your favourite!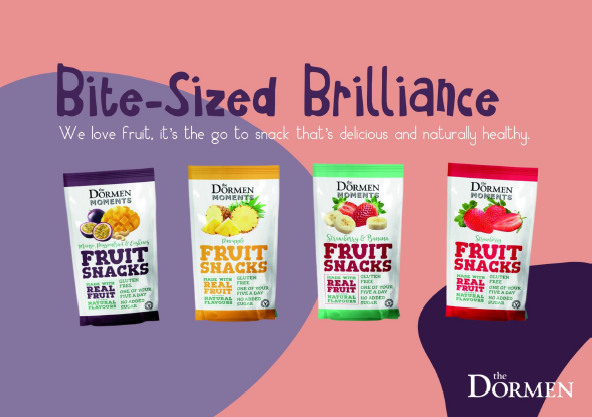 Not only are they great tasting snacks, full of favour, they are suitable for Vegans, Vegetarians, Gluten & Dairy Free. A great source of Fibre and One of Your 5 a Day.
Don't just take our word for it, we have hundreds of people writing fantastic reviews just like the below:

'I've just had my first packet of your Mango, Passionfruit and Cashew Fruit Snacks and oh my gosh they are gorgeous!!! I'll definitely be buying more!!!' - Annette

'Delightful, great combo - great packaging' - Naomi C

'I happened across the Strawberry and Banana snacks in a local farm shop a month back and my son and I loved them so much we decided to try a box of the Mango, Passionfruit and Cashew ones, and boy were we glad we did!
They are moorish and so lush to snack on when dashing about and in need of a little energy in between meals!
I would highly recommend these to anyone! when I run out I will be sure to order more!
don't ever discontinue these please!!!' - Samatha