The Dormen Food Company
Regular price
Offer
£29.50
Unit price
per
Offer
Sold out
The Pub Snack Bundle
Curated during 2020, the Pub Snack Bundle allows you to enjoy your favourite pub snacks, from home! When your local was closed during the lockdown(s), we wanted to bring the pub to you.
Whether you have a home bar, or enjoy your snack cupboard - the Pub Snack Bundle features three classic snacks. 
Contains 24 x Dry Roasted Peanuts 50g, 24 x Salted Peanuts 50g and 24 x Spicy Peanuts 40g. That's 72 Snack Bags in total.
Share
View full details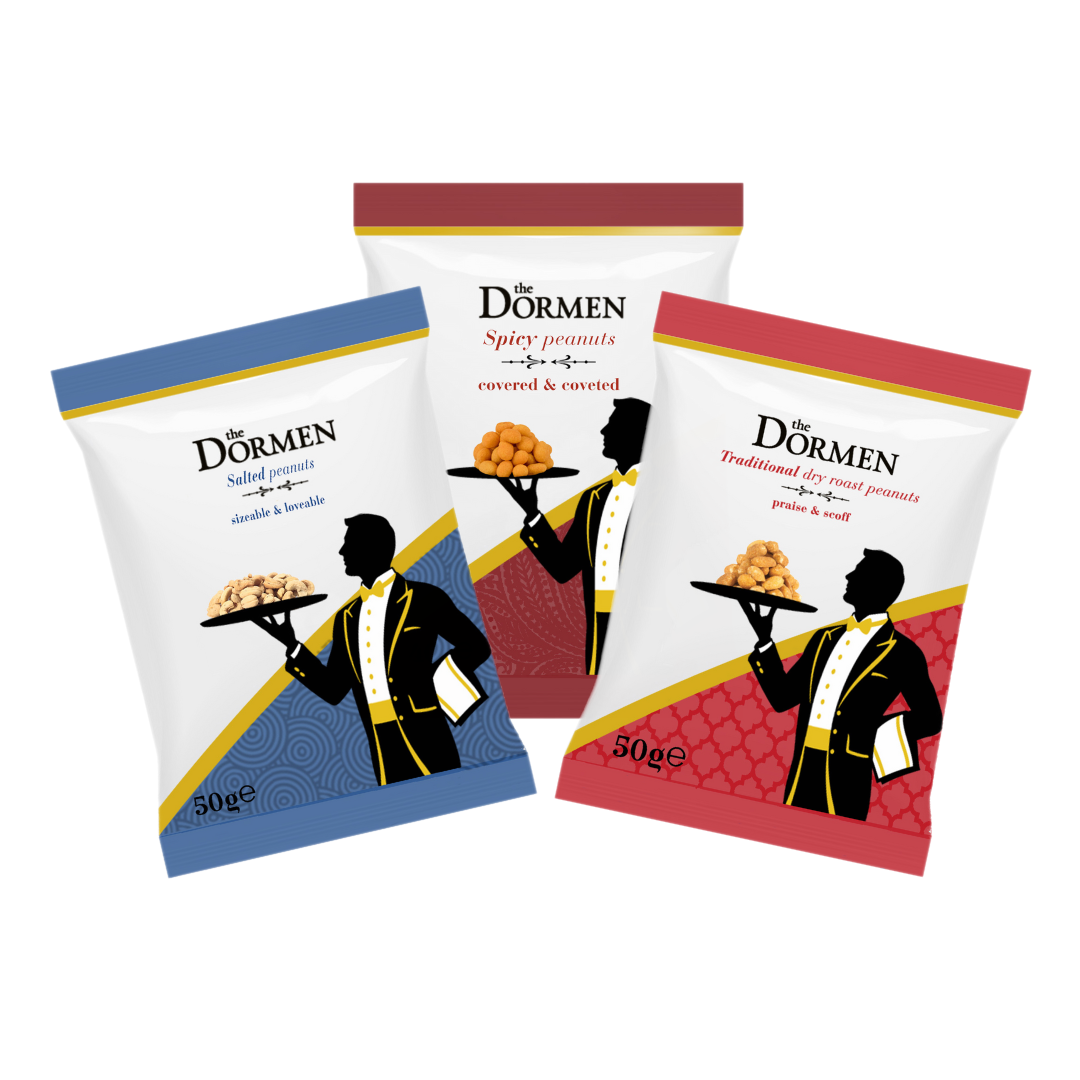 Great products and good service
Excellent deal
Taste great
Great service
Speedy delivery
Bring the Pub home
A great selection of peanuts to give your guest the feeling of the pub during lockdown
Moorish
Eat 1 packet and your sure to want more. Excellent service and communication.
Information
Ingredients

Dry Roasted Peanuts
Peanuts (94%), Dry Roast Seasoning (6%) [Fortified Wheat Flour (Wheat, Calcium Carbonate, Iron, Niacin, Thiamine), Salt, Maltodextrin, Onion Powder, Yeast Extract (Yeast Extract, Salt, Maltodextrin), Anticaking Agents (Tricalcium Phosphate, Silicium Dioxide), Spices (Cinnamon, Turmeric, Celery), Yeast Powder (Yeast Powder, Herbs (Thyme, Oregano), Sunflower Oil, Colour (Paprika Extract), Vegetable Extract], Water, Stabiliser (Sorbitol), Thickener (Gum Acacia)].

Salted Peanuts
Peanuts (96%), Rapeseed Oil, Salt.

Salt & Cider Vinegar Peanuts
Peanuts (94%), salt & vinegar seasoning 4% (sea salt, cider vinegar powder, sugar, acid (citric acid, malt vinegar powder (barley), malic acid, colour (caramel), yeast extract powder, turmeric extract), rapeseed oil.
Nutritional Information

Dry Roasted Peanuts:
Per 100g:
Energy KJ: 2457
Kcal: 593
Fat (g) : 46
of which Saturates (g) : 6.2
Carbohydrate (g): 15
of which sugars (g): 8.4
Fibre (g): 7.4
Protein (g): 27
Salt (g): 0.92

Salted Peanuts:
Per 100g:
Energy KJ: 2491
Kcal: 602
Fat (g) : 53
of which Saturates (g) : 9.5
Carbohydrate (g): 7.1
of which sugars (g): 3.8
Fibre (g): 6
Protein (g): 25
Salt (g): 1.0

Salt & Vinegar Peanuts:
Per 100g:
Energy KJ: 2303
Kcal: 555
Fat (g) : 45
of which Saturates (g) : 8.3
Carbohydrate (g): 13
of which sugars (g): 6.3
Fibre (g): 5.8
Protein (g): 24
Salt (g): 1.86
Allergy Information

Dry Roasted Peanuts:
Contains: Peanuts, Wheat, Celery, Yeast Extract, Sunflower, Onion, Additives E341iii & E551, Paprika Extract, Herbs & Spices
May Contain: Nuts, Milk, Soya, Sesame Seeds

Salted Peanuts
Contains: Peanuts
May also contain: nuts, milk, soya, sesame seeds, gluten.

Salt & Vinegar Peanuts
Contains: Peanuts, Barley (Malt Vinegar Powder), Yeast Extract, Rapeseed, E150a
May Contain: Nuts, Milk, Soya, Sesame Seeds, Gluten
Purveyors & Connoisseurs of Fine Nuts & Snacks