The Dormen Food Company
Regular price
Offer
£17.70
Unit price
per
Offer
Sold out
Premium Peanut Selection
We've taken our finest peanuts in all forms and created the perfect selection. 
This selection contains 8 snack bags of our finest Virginia-grade peanuts which have been roasted and lightly salted. 8 snack bags of our paprika and chilli shelled spicy peanuts and last but not least, 8 snack bags our uniquely coated Traditional Dry Roasted Peanuts. 
Share
View full details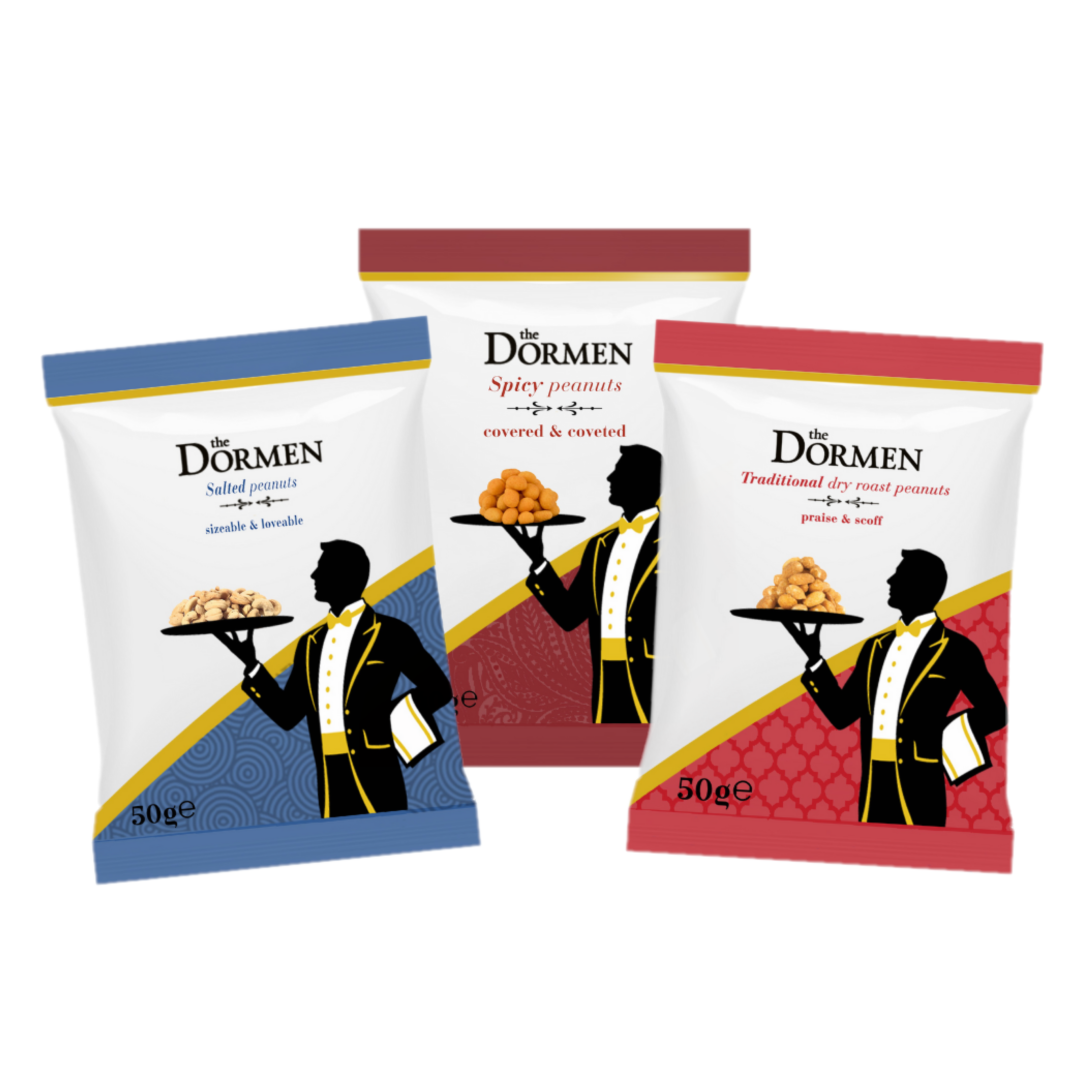 Great Selection
Tasted these nuts whilst out in a bar and ordered a box for ourselves! Great quality and flavour.
Great snacks
I was looking for a selection of snacks and found this selection perfect for my needs. The quality was excellent and the 50g servings the perfect size.
Our favourite was the chili peanuts, although the plan salted variety were close behind.
Great Tasting Selection
Great tasting nuts and crisps
Information
Ingredients

Salted Peanuts
Peanuts (96%), Rapeseed Oil, Salt.

Dry Roasted Peanuts
Peanuts (94%), Dry Roast Seasoning (6%) [Fortified Wheat Flour (Wheat, Calcium Carbonate, Iron, Niacin, Thiamine), Salt, Maltodextrin, Onion Powder, Yeast Extract (Yeast Extract, Salt, Maltodextrin), Anticaking Agents (Tricalcium Phosphate, Silicium Dioxide), Spices (Cinnamon, Turmeric, Celery), Yeast Powder (Yeast Powder, Herbs (Thyme, Oregano), Sunflower Oil, Colour (Paprika Extract), Vegetable Extract], Water, Stabiliser (Sorbitol), Thickener (Gum Acacia)].

Spicy Peanuts
Peanuts 45%, sunflower oil, potato starch, maize starch, maize flour, rice flour, sugar, dextrose, salt, food fibres, wheat starch, onion powder, spices (garlic, cayenne pepper, red pepper, cumin seed), turmeric extract, caramelised sugar, yeast extract, oregano, paprika extract, rosemary extract, colour (paprika)],

Nutritional Information

Salted Peanuts
Per 100g:
Energy KJ: 2491
Kcal: 602
Fat (g) : 53
of which Saturates (g) : 9.5
Carbohydrate (g): 7.1
of which sugars (g): 3.8
Fibre (g): 6
Protein (g): 25
Salt (g): 1.0

Dry Roasted Peanuts
Per 100g:
Energy KJ: 2457
Kcal: 593
Fat (g) : 46
of which Saturates (g) : 6.2
Carbohydrate (g): 15
of which sugars (g): 8.4
Fibre (g): 7.4
Protein (g): 27
Salt (g): 0.92

Spicy Peanuts:
Per 100g:
Energy KJ: 2142
Kcal: 511
Fat (g) : 30
of which Saturates (g) : 4.3
Carbohydrate (g): 44
of which sugars (g): 11
Fibre (g): 5
Protein (g): 13
Salt (g): 2.3
Allergy Information

Salted Peanuts
Contains: Peanuts
May also contain: nuts, milk, soya, sesame seeds, gluten

Dry Roasted Peanuts
Contains: Peanuts, Wheat, Celery, Yeast Extract, Sunflower, Onion, Additives E341iii & E551, Paprika Extract, Herbs & Spices
May Contain: Nuts, Milk, Soya, Sesame Seeds

Spicy Peanuts
Contains: Peanuts, Wheat, Starch, Flour, Yeast Extract, Sunflower, Onion, Herb, Spices, Rice, Paprika
May Contain: Nuts, Milk, Soya, Sesame Seeds
Purveyors & Connoisseurs of Fine Nuts & Snacks